Miroil Fryliquid FAQ's
This antioxidant fryer product has premium performance with all oils. It is made with natural ingredients, and replenishes antioxidants that are lost by heating and cooking with the fryer enhancer.
To receive full benefit, add the fryer enhancer before each meal session or every 5 to 8 hours.
Why use Miroil fryliquid?
fryliquid is about better fried food!
Your food will taste better, look better and cook faster with hotter centers.
You will save money - Because the food will absorb less oil - and you will discard less oil.
Without fryliquid Progressive Diminished Quality of food sets in as your oil gets older.
With fryliquid you are able to prevent PDQ and the oil is always good.
How does fryliquid work in my fryer?
Every oil contains antioxidants. They protect the oil while it is waiting to be used.
All antioxidants are consumed as they prevent breakdown reactions. The antioxidants in fresh oil do not work when the oil is heated so they burn up quickly.
fryliquid delivers an antioxidant effect that acts like a 'vitamin' therapy to prevent unhealthy breakdown reactions while you fry!
Why are the benefits of fryliquid so different?
Other products try to restore the oil when you filter. fryliquid prevents the oil from breaking down whilst you fry. This means premium oil performance and longer oil life
The oil is always good when you use fryliquid with the Miroil plan for Optimum Frying.
The oil never smokes and never foams. You avoid carbon and gum deposits.
What is fryliquid? Is fryliquid safe to use?
This revolutionary product is a cocktail of natural ingredients that are found in food.
When do I add fryliquid?
All antioxidants are consumed as they accomplish their mission to prevent oxidation breakdown reactions. So be sure to add fryliquid before each meal session and according to instructions on the label. Add fryliquid before breakfast, lunch and dinner for full effect..
What if I use too much fryliquid?
Tests with double and even triple size portions were found to give extra value.
There are no adverse effects from adding larger quantities to the oil.
Choose the portion that matches how you want the food to cook.
What if I don't use enough fryliquid?
The product won't work if you don't use it.. and.. if you don't use enough fryliquid, benefits will be diminished. Use the suggested portion to receive the best value.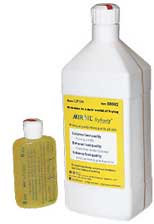 ORDER ONLINE NOW