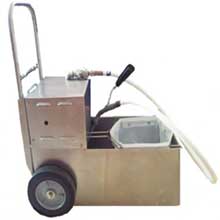 DOM Standard 40 litre
Length: 630mm
Width: 300mm
Height - front: 275mm
- rear: 500mm
Handle Extended: 750mm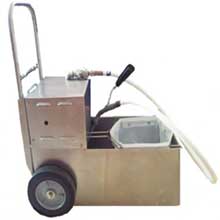 DOM Standard 45 litre
Length: 720mm
Width: 300mm
Height - front: 275mm
- rear: 500mm
Handle Extended: 750mm
Domray Oil Filtration
The Domray Oil Electric Filtration units are designed for the tough conditions found in the kitchen and used in many operations across Australia. Available in 40 and 45 litre capacities as standard, special sized units can be built to order.

Manufactured in stainless steel construction with a powerful 1/2 hp heavy duty low maintenance pump system and being able to return filtered oil back to the fryer at over 20 litres per minute, the cleaning of fryers and the filtering of oil becomes quick, safe and easy. The return flow to the fryer allows the area around the cold zone to be fully flushed to remove all loose matter at the bottom of the fryer pan. Crumbing in the oil is removed in long lasting washable and reusable filter bags complying with Worldwide food standards.

The Domray Oil Filtration Units have a simple fold down handle and large wheels for easy storage where space is at a premium.

Whilst maintenance is minimal, with all electrics contained in the motor housing and easy access to the pump, no special tools or expertise is needed if required.

Hand pumping units with capacities of up to 30 litres are also available for those areas where power is not readily available.